COVID – 19 NOTICE
I hope this notice finds you as well as can be amidst this awful virus and the ever changing circumstances we are finding ourselves in every day.
People are advised not to travel to the Highlands so as to protect the small communities that live here. Small local shops & stores are running low on supplies and we have to take into account that local hospitals & medical provisions are some distance away and we only have one doctor and ambulance to service a large area. Our pubs, restaurants, leisure facilities and visitor attractions have ALL now closed on the recommendation by the government. Those vital services that remain open are struggling to cope with demand. 
Sadly the advice has been ignored, our local area, along with many others has seen a substantial increase in camper vans and wild camping, this as you can understand is extremely worrying.
We have decided, along with Government, Visit Scotland, ASSC, Road To The Isles, advice to close Ceithir Raithean up to the 1st June, we are hoping along with everyone else that by then the situation will improve but realistically predictions seem to imply the opposite at the moment.
We want to be as flexible & helpful as we possibly can and are at present contacting and responding to guests enquiries and where possible are transferring bookings across to next year.
If we haven't managed to contact you just yet, please don't worry, we will, or just send us email and we will respond as soon as..
I would like to say a massive Thank You to our guests whom I have contacted for their understanding and support, it means a lot to us and is much appreciated.
We look forward to greeting you in better times.
Best wishes
Vanessa & Joe
Throughout the high season our bookings are from Saturday / Saturday 4.00pm to 10.30am.
During the low season we are able to offer short breaks of a minimum three night stay.
A 25% deposit will secure your booking and the remaining balance is due 8 weeks prior to your date of arrival. We accept Bacs online payment and cheques. Any bank charges will be in addition to the prices shown. Well behaved pets are strictly by prior arrangement only (max 2). £40.00 per pet.
Please note the maximum occupancy is 7 persons.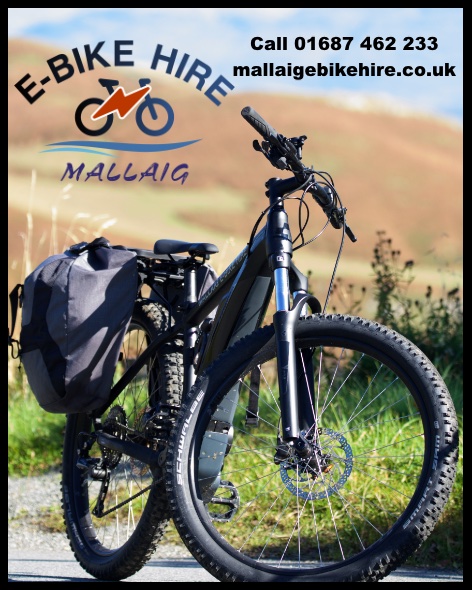 For all  Electric Mountain Bike enquiries, please contact Mallaig E-Bike Hire  telephone 01687 462 233
The use of the hot tub is inclusive of the total price shown, however we will ask you to sign a Safety Guidelines sheet to say you have read and understood the safety terms & conditions.
Please read our Terms and Conditions before booking and ensure you have proper holiday insurance at time of booking.